Episode 6: WrestleMania 34, NXT TakeOver preview and predictions!
Point to the sign! Keep pointing! Point harder! It's WrestleMania weekend!
Joe and Tim finally get to preview WrestleMania 34 and NXT TakeOver: New Orleans!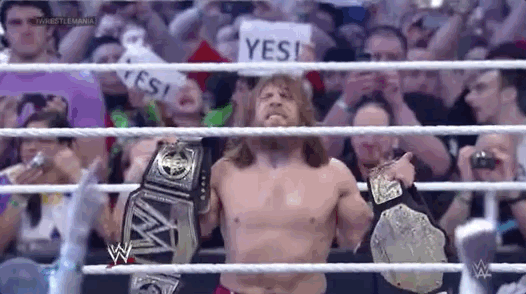 They go match-by-match and predict what's going to happen:
🤼Will A.J. Styles vs. Shinsuke Nakamura be all we hope it is?
🤼Are the guys looking forward to Brock Lesnar vs. Roman Reigns?
🤼How will Charlotte vs. Asuka play out?
Also: Vote for the match YOU think will steal the show at WrestleMania!
VOTE: Which #WrestleMania34 match will be the best?

— 'In This Ring'🤼🎙️ (@InThisRing) April 5, 2018
And don't forget to tweet us your thoughts about the show during and after! We'll mention the best tweets on air Monday in our upcoming WrestleMania 34 review with our special guest, NFL.com fantasy writer Adam Rank!
WWE TLC Preview and Predictions, Top 5 Moments of 2018
Joe and Tim recapped the latest episodes of Raw and SmackDown Live but looked toward the bigger picture this weekend with WWE's TLC pay-per-view.
The card looks … quite great, actually. Daniel Bryan vs. A.J. Styles. Becky Lynch vs. Charlotte Flair vs. Asuka. Seth Rollins vs. Dean Ambrose.
Plus, the guys list their Top 5 Memorable WWE Moments of 2018.
Want to join our stable? We're tagging you in:
RIP Dynamite Kid, Top Surprises in 2018 Pro Wrestling
Joe and Tim started off the latest episode with the sad news that Dynamite Kid passed away. The guys talked about his tragic life but brilliant in-ring work.
Plus, they reviewed Raw (ugh, for the second straight week) and SmackDown (The A Show) and talked about the All Elite Wrestling trademarks filed by Cody Rhodes and The Young Bucks.
The highlight: They go over "Things We Didn't Expect To Say About 2018 Wrestling" (inspired by Reddit user thelumpur). Tim gave his ideas this week. Joe should chime in next week.
Want to join our stable? We're tagging you in:
SmackDown women save us from Raw, plus Top 5 Underutilized WWE Superstars
Joe and Tim made it out of this week's Worst. Raw. Ever alive and are ready to break down the rest of the week's biggest pro wrestling news:
* Cody Rhodes and the Young Bucks' All Elite Wrestling?
* Lars Sullivan's promotion … and troublesome message board posting
* Thank you, SmackDown women (Becky Lynch, Charlotte, Asuka … and Sonya Deville and Mandy Rose) for saving wrestling this week!
Top 5 Underutilized WWE Performers
Tell us your Top 5. After that … want to join our stable? We're tagging you in: