Episode 6: WrestleMania 34, NXT TakeOver preview and predictions!
Point to the sign! Keep pointing! Point harder! It's WrestleMania weekend!
Joe and Tim finally get to preview WrestleMania 34 and NXT TakeOver: New Orleans!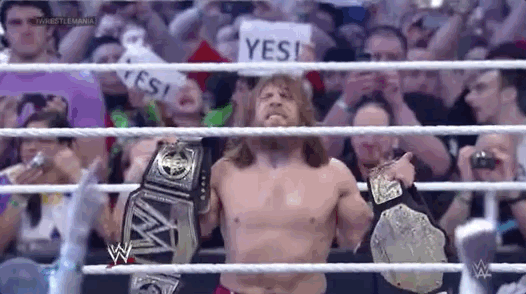 They go match-by-match and predict what's going to happen:
🤼Will A.J. Styles vs. Shinsuke Nakamura be all we hope it is?
🤼Are the guys looking forward to Brock Lesnar vs. Roman Reigns?
🤼How will Charlotte vs. Asuka play out?
Also: Vote for the match YOU think will steal the show at WrestleMania!
VOTE: Which #WrestleMania34 match will be the best?

— 'In This Ring'🤼🎙️ (@InThisRing) April 5, 2018
And don't forget to tweet us your thoughts about the show during and after! We'll mention the best tweets on air Monday in our upcoming WrestleMania 34 review with our special guest, NFL.com fantasy writer Adam Rank!
Extreme Rules recap, booking WWE & Pittsburgh crowd w/ All-Star Wrestling's Nate Bush
WWE Extreme Rules had its highs and lows. Joe Pisapia and Tim Heaney review it and welcome in All-Star Wrestling commentator and Wide Men Can't Jump basketball podcaster Nate Bush to chat about:
🤼  That Pittsburgh crowd …. EHHHHH! They have some thoughts….
🤼  Seth Rollins and Dolph Ziggler stole the show, though, in their Intercontinental Championship Iron Man match
🤼  Bobby Lashley, Roman Reigns, Brock Lesnar and the Universal Title picture
🤼  What's next for Ronda Rousey? Asuka? Alexa Bliss? A.J. Styles? Rusev Day? Matt Hardy and Bray Wyatt?
🤼  How happy are they that Shinsuke Nakamura is U.S. Champion?
🤼  Nate shares stories about working on commentary — and other jobs — in local wrestling
Catch more of Nate's work on the Wide Men Can't Jump basketball podcast, and if you're in the West Virginia area, go check out All-Star Wrestling!
Thanks for listening! Want to join our stable? We're tagging you in:
WWE Extreme Rules results
WWE Extreme Rules results
This was … a pay-per-view that happened and made us even more desperate for SummerSlam weekend to get here.
Here are the Top 5 results you need to know:
1. Dolph Ziggler retained the Intercontinental championship over Seth Rollins with a 5-4 win in sudden death of the 30-minute Iron Man Match, which ended up — wisely — being the main event. Rollins took a 2-0 lead, then Drew McIntyre's beatdown — though it gave Seth a 3-0 lead and prompted McIntyre to get ejected — eventually allowed Ziggler to score three straight falls. Regulation ended at 4-4, but Kurt Angle restarted the match in sudden death rules before McIntyre interfered with the restart, allowing Ziggler to hit the ZigZag and escape with the title.
No surprise returns — dammit, Dean Ambrose — just some good old-fashioned heel shenanigans. Solid main event, but the ending felt a bit flat.
Unfortunately, the biggest story was probably the Pittsburgh crowd counting down for the final 10 seconds of every minute that passed — Royal Rumble-style — and going "EEEEEHHHH" at the zeroes.
Ziggler was supposed to steal the show, not you morons.
2. Carmella defeats Asuka to retain the SmackDown Women's Championship. And they made Asuka look even more foolish in the process. If they're going to give Asuka her moment at Summerslam, they had to stretch this out someway possible. Wish Asuka didn't have to look like Vintage Goober Babyface WCW Sting in the process.
3. A.J. Styles retained the WWE Championship over Rusev. Aiden English exposed a turnbuckle, and Rusev ran headfirst into it after Styles side-stepped him. A Phenomenal Forearm later, the champ scored a victory. Will Rusev forgive his hype man for blowing this one for him? Who's next to challenge Styles?
4. Alexa Bliss retained the Raw Women's Championship over Nia Jax in a sloppy match. Ronda Rousey got involved to defend the honor of her forced BFF Natalya. The Extreme Rules stipulation would've been much cooler had Mickie James' stiletto boots been used as a weapon.
5. Shinsuke Nakamura took about 30 seconds to win the U.S. Championship, low-blowing Jeff Hardy before the bell and delivering a Kinshasa. Also, Randy Orton showed up and gave the loser his own kick downstairs. Brother Nero? More like Brother Zero Balls.
Also:
* Bobby Lashley defeated Roman Reigns. There were some fun spots, but this never really did much for me.
* The Bludgeon Brothers defeated Team Hell No to retain the SmackDown Tag Team titles. A prematch attack on Kane left Daniel Bryan to go start the match by himself, but Future Knoxville Mayor Demon Kane hobbled down wearing a boot on his left foot to help him out. A Luke Harper-Erick Rowan super clothesline off the top rope put the challengers down for good.
* Kevin Owens "won" the cage match, but Braun Strowman threw him off the top and through the announce table for it to happen. As he keeps piling up the counts of attempted murder, Mr. Monster in the Bank continues to prove he's a true WWE babyface.
* New Day vs. SAnitY tables match: SAnitY wins! It was the right decision. Quick, effective showcase of the ceiling these trios could put on if they get an extended window to impress. Hope this also happens at Summerslam and maybe through Royal Rumble. Let them torment New Day for several months … and, wishful thinking on my part, let them infect Big E's psyche and convince him he doesn't need Kofi Kingston and Xavier Woods.
* B Team wins the Raw Tag Team Titles! Good decision. They can figure out what to do with the Deleters of Worlds on their own.
* Finn Balor defeated Constable Baron Corbin. Yay?
* Andrade "Cien" Almas had a #Tranquilo match, easily dispatching Sin Cara.
Kurt Angle also issued Brock Lesnar an ultimatum: Show up on Raw, set your next title defense, or vacate the title. So expect Bork to show up on Monday night.
Is Bobby Lashley next in line? Roman Reigns? Seth Rollins? Someone else?
Before we look ahead, let us know what you thought of Extreme Rules:
What grade would you give #WWE's #ExtremeRules?

— 'In This Ring'🤼🎙️ (@InThisRing) July 16, 2018
We'll have more on our full Extreme Rules recap podcast Wednesday, with special guest Nathan Bush from the Wide Men Can't Jump podcast!
Until then, we're tagging you in:
Extreme Rules preview, Brock Lesnar UFC return, Hulk Hogan history
WWE Extreme Rules is happening this Sunday, and the guys go over the card and what they want to happen.
Who should win the Intercontinental Title Iron Man match? Should it be a Rusev Day celebration over A.J. Styles? Alexa Bliss and Carmella set to retain?
Plus …
🤼 Brock Lesnar is set to face Daniel Cormier for the UFC Heavyweight title. What does this mean for the Universal Championship? (Forgot about that title, right?)
🤼 Injury updates on Hiromu Takahashi, Jim Ross and more
🤼 Hulk Hogan history lesson: July anniversaries of three of his biggest moments, including the birth of the nWo
Top 5: Best Hardcore Wrestlers
In honor of EXTREME RULES, the guys list their favorite guys who put their bodies at risk with weapons, etc.
Tell us your Top 5 and use #TweetThisRing on Twitter!
Thanks for listening! Want to join our stable? We're tagging you in: