Ep. 8: Raw and Smackdown After Mania reactions, plus TWO Top 5's!
The Raw and SmackDown after Mania did little to stop the craziness of New Orleans' WrestleMania 34 weekend!
Joe and Tim breathlessly go over everything happened, including:
🤼 A new SmackDown Women's Champion!
🤼 Returns: Samoa Joe! Paige retires then returns! Daniel Bryan returns to the ring and puts on a show with the champ!
🤼 Debuts from NXT: Ember Moon! Authors of Pain! Iconics: Peyton Royce and Billie Kay!
🤼 Roman Reigns and Samoa Joe building a feud?
🤼 Kurt Angle even called out TNA!
Plus TWO Top 5's: Tim goes over the Best Raw-After-Mania moments, and Joe lists 5 Superstar Shakeups he wants to see!
Also, they have a question for you:
Which #RawAfterMania/#SDLiveAfterMania debut was the best?

— 'In This Ring'🤼🎙️ (@InThisRing) April 11, 2018
Thanks for reading and listening! It's your turn to help. We're tagging you in:
Ep. 9: Brian Pillman Jr. interview, Superstar Shakeup, Andre The Giant documentary
We have a special 'In This Ring' episode to drop for you!
Joe interviewed rising indy wrestling star Brian Pillman Jr. about his career, following in his dad's footsteps, his current injury and much more!
While you're at it, watch his recent championship match from MPW:
Plus:
🤼 WWE's Superstar Shakeup: Soooo many switches!
🤼 Andre The Giant documentary on HBO
🤼 John Cena and Nikki Bella can't see each other anymore
🤼 The Bobby Lashley problem
Plus our Top 5 Superstar Reboots: WWE characters who rebounded after failing!
Thanks for reading and listening! Now we need your help. We're tagging you in:
Ep. 7: WrestleMania 34, NXT recap with NFL Network's Adam Rank
WrestleMania 34 and NXT TakeOver: New Orleans are in the books, and Joe and Tim bring in a special guest, NFL Network personality and rasslin' obsessive Adam Rank, to talk about what went down!
What a night for NXT! It lasted three hours but flew by, thanks to tight storytelling and brilliant performances, especially in the ladder match and the two main events (Cien Almas-Aleister Black and Johnny Gargano-Tommaso Ciampa)!
But 'Mania leaves more questions than answers as the card disintegrated in front of our eyes:
🤼 Was having Asuka lose to Charlotte the right decision?
🤼 Where do Brock Lesnar and Roman Reigns go from that … weird title match?
🤼 Shinsuke Nakamura's heel turn was a surprise. What else shocked the guys?
🤼 Ronda Rousey did a great job, though!
🤼 But was the whole event … just too long?
Episode 6: WrestleMania 34, NXT TakeOver preview and predictions!
Point to the sign! Keep pointing! Point harder! It's WrestleMania weekend!
Joe and Tim finally get to preview WrestleMania 34 and NXT TakeOver: New Orleans!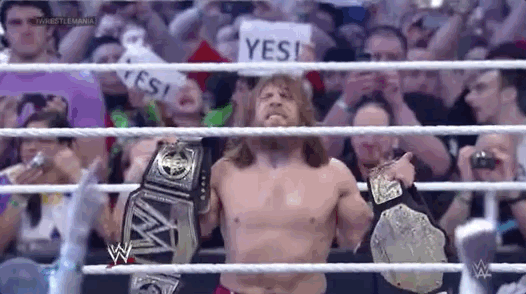 They go match-by-match and predict what's going to happen:
🤼Will A.J. Styles vs. Shinsuke Nakamura be all we hope it is?
🤼Are the guys looking forward to Brock Lesnar vs. Roman Reigns?
🤼How will Charlotte vs. Asuka play out?
Also: Vote for the match YOU think will steal the show at WrestleMania!
VOTE: Which #WrestleMania34 match will be the best?

— 'In This Ring'🤼🎙️ (@InThisRing) April 5, 2018
And don't forget to tweet us your thoughts about the show during and after! We'll mention the best tweets on air Monday in our upcoming WrestleMania 34 review with our special guest, NFL.com fantasy writer Adam Rank!